e-Books
Restoration of Christian Marriage
A comprehensive analysis of the marriage, divorce and remarriage issues. What is a Biblical marriage? What about divorce and remarriage? What about my situation?
✽ English Language Version
✽ Czech Language Version
✽ Listen to Rev. Stephen Wilcox
✽ Email Rev. Stephen Wilcox
---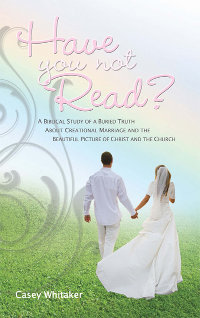 Have You Not Read
An excellent book on marriage, divorce and remarriage, covering such topics as what the early Christians said about marriage, why God is serious about marriage, compassion, church discipline, and others.
---
Jesus' Doctrine of Marriage Divorce Remarriage
Divorce must be subject to the doctrine of marriage; it will be seen that marriage supersedes the idea of divorce and in their struggle marriage obliterates her foe: divorce.
✽ Read book by Rev. John D. Keller
---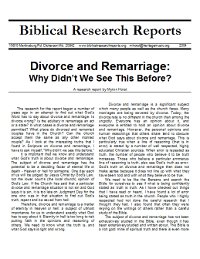 Divorce and Remarriage — Why Didn't We See This Before?
"The church has a lot of 'answers' about divorce and remarriage, but still many people feel they don't have God's answer. After doing the research for this report, I had to ask, "Why didn't we see this before?"
✽ Read Report by Brother Myron Horst
✽ Go to Biblical Research Reports
---
Divorce and Remarriage
A contextual and progressive study of the New Testament as it relates to the subjects of divorce and remarriage. This is a must read for those seeking to understand the context of these subjects as it relates to their placement in Scripture.
---
Betrothal and Divorce
"No provision whatsoever has been made for the dissolution of wedlock for any cause save misconduct before marriage; such not having previously been disclosed to the bridegroom to the end that he might be deceived."